20 Most Promising SAP Technology Solution Providers - 2018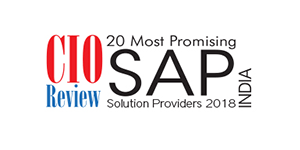 Organizations invest in SAP technology with the aim of optimizing their operations ,streamlining business processes, improving efficiencies, utilizing avantgarde technologies to gain competitive advantage and attaining maximum ROI. Truly, the proliferation of digital technologies is reshaping the world around us, particularly reinforcing companies to envisage not only new business models but also the way their workforce operates. In such scenarios, SAP plays an inevitable role by bringing transformational technologies as well as extensive range of applications to SAP customers for automating their diversified enterprise operations.
The leader in enterprise applications, SAP ,has developed various modules in the course of time focused on different areas. Rendering one of the most widely used enterprise re-source planning(ERP) solutions, it bolsters enterprises across various industries to leverage critical business functions such as enterprise performance management, accounting and financials, and human capital management to name a few. Additionally, it has been harnessing machine learning in its applications in the recent years. However, daunting challenges such as implementation and integration etc. are forcing enterprises to rely on efficient players in the SAP ecosystem. Today, a plethora of IT players abound in SAP technology landscape with best of breed consulting as well as implementation services. Hence, to connect right partners with businesses and support C-Level executives, CIO Review introduces "20 Most Promising SAP Technology Solution Providers 2018". A distinguished panel comprising of CEOs, CIOs, industry analysts and CIOReview editorial team have scrutinized various companies before finalizing these technology vendors, who maneuver enterprises to transform the way they work and grow in the SAP technology world.
We present to you CIOTechOutlook 20 Most Promising SAP Technology Solution Providers - 2018.
Top SAP Technology Solution Providers
| | |
| --- | --- |
| Aoire Business Consultants | A provider of ERP/SAP services ranging from core SAP ERP to technologies such as Analytics, FIORI, HANA, iOT and cloud solutions. It is specialized in planning and executing of all stages of SAP... |
| Arodek | A provider of complete lifecycle of SAP Enterprise Solutions, CRM Solutions,E-Commerce Solutions, Cloud Architecture, Application Development, Business Intelligence, Analytics, Web Design... |
| Best Applications India | A provider of SAP consulting and services to global companies. Its service offerings incorporate Implementation, Upgrade and rollout, Support and Cloud Services. |
| BR ERP Technology Services | A provider of SAP Support Services portfolio which includes Training, Business Process Outsourcing, Software development (both client-server and web based), design and maintenance of web sites,... |
| Brainscape | A provider of SAP solutions across multiple industry verticals like Machinery Manufacturers, Chemicals, Polymer Processing, Processing Industries, and Automotive etc. It offers services related to... |
| Coactive IT Solutions | A provider of SAP Solutions to Small, Medium and Large Enterprises. It renders SAP ERP services Such as Preimplementation assessment and business consulting, Implementation, Customized Development... |
| Cognitus Consulting | A provider of solutions in implementing, deploying,enhancing and supporting SAP solutions. It caters solutions for SAP S/4HANA Migration, SAP S/4HANA Greenfield Implementation and SAPUI5... |
| CPM Consulting | A provider of professional IT consulting services with an exclusive focus on SAP Enterprise Performance Management(EPM). Its repertoire of services encompasses Planning, Budgeting and Forecasting,... |
| DCG Data-Core Systems (India) | A provider of provider of information technology, consulting and business process outsourcing services. Along with SAP Consulting Services, it offers comprehensive solutions to staff and deliver... |
| I-Novate | A provider of a repertoire of SAP Services that include pre-implementation, support, upgrade, SAP Implementation, roll out and ABAP development services. |
| ITELLIGENCE | A provider of SAP Consulting Services, who focuses on developing innovative SAP Solution with latest SAP Solution offerings such as Simple Finance, SAP HANA and SAP Fiori. |
| K Square India Technologies | A provider of end-to-end solutions for organizations in implementing SAP as well as training end-users for effectively using SAP. Also it offers SAP ERP Consulting and Support srvices. |
| Keyush Consulting Limited | A provider of ERP implementations and upgrades to a wide mix of small to medium-sized businesses. It focuses on SAP Business All-in-One, SAP Business One, SAP Business by Design, SAP S/4HANA, SAP... |
| Nexus Business Solutions | A provider of software and service solutions include ERP, ERP SAP and add-on software solutions for big, medium and small scale industries. It offers services such as implementation, and support... |
| SmartDocs Business Solutions | A provider of cloud based content management system for SAP systems. It is specialized in SAP Certified Add-on solutions and provides software focused on optimizing business processes for customers... |
| Smartnet Software | A provider of service offerings on Sap Business One including BPR (Business Process Re-Engineering), Implementation, Extensive Customization and Support. |
| Sphinax Info Systems | A provider of Services related to SAP R/3 System as well as SAP Business One. It focuses on software services and support, ERP application development, web application and soultions,SAP R3 & B1... |
| Teckraft Infosolutions | A provider of SAP Business One ERP solution to SME customers with a special focus on discrete and process manufacturing sectors. |
| Tekylabs | A provider of of SAP Consulting, Solutions & Services in Design, Development, Test and Implementation of different client landscapes, IT Projects, Cloud, Client-Server Technologies-Commerce, Web... |
| Wyzibility Consulting | A provider of ERP Consulting services. It renders IT/ ERP products to various identified industries such as Health, Lifesciences, Food & Dairy, Discrete Manufacturing and Textile industries using... |