20 Most Promising SAP Solution Providers in India - 2016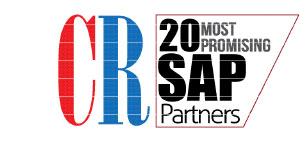 From back office to boardroom, warehouse to storefront, desktop to mobile device; SAP has been empowering organizations to work together more efficiently and use business insight more effectively to stay ahead of the competition. The core element of SAP's success has been its partnership with various IT vendors across the globe. Certified SAP partner offer a full portfolio of outsourcing services for the wide range of SAP products through services such as hosting and providing SAP HANA solutions, Infrastructure operations, Application management services, Mobile operations, BPO service etc.
Regardless of the company size or industry, SAP partners have gained the capability to help buy, build, implement, service, support and run the any SAP solution. In addition, to ensure ongoing high standards for the management of SAP solutions, certified partners of SAP have had undergone a rigorous assessment of their delivery and support capabilities by SAP's outsourcing partner certification group.
With numerous SAP partner across India, it apparently becomes difficult for enterprises to opt for the right and relevant one. CIOReview as the navigator for enterprises provides a clear picture of emerging SAP partners in India. This issue focuses on innovative solutions provided by SAP partners in India. We present you the list of 20 Most Promising SAP Solution Providers in India. Each company in the list has unique qualities and strengths in leveraging SAP solutions in different ways. A distinguished panel comprising of CEOs, CIOs, VC, analysts and CIOReview's editorial board have finalized the list. The list will enable enterprises to zero in on emerging SAP solution providers in India.
We present to you CIOTechOutlook 20 Most Promising SAP Solution Providers in India - 2016.
| | |
| --- | --- |
| A5E Consulting | A provider of business transformation consultation service along with other services such as Service Customer-Vendor Relationship Management, Project Management, Software Product Development and... |
| Ahana Systems & Solutions | A provider of various Data Warehousing, Information Management, Business Intelligence and Visualization needs of various SMEs by leveraging SAP. |
| Akshay Software | A provider of procurement, installation, implementation, support, and maintenance service of ERP products and services. |
| ASAT Information Technologies | A provider of core SAP business solutions such as Supplier Account Management, Customer Account Management, Customer Service Management and Finance and Controlling Solutions |
| Atum IT | A provider of SAP's Hana Operations Services, Application Management Services, BPO, Hosting, Cloud Services and Mobile Operations Services. |
| Client Linx Software | A provider of ERP SAP services that include SAP implementation, SAP Application Maintenance Support , SAP Basis Consulting, Infrastructure services, ERP SAP Upgrade and SAP Application Management... |
| Daffodils Info Knowledge Solutions | A provider of Application Management Service for Functional and Technical modules apart from SAP Consultancy, SAP AMS Support, SAP Basis & SAP Solution Manager Implementation service |
| Diligent Consulting | A provider of SAP technology consulting service and business consulting service in the areas of Business Process Re-engineering, Expert Consulting, Training, Solution reviews and Safeguarding... |
| Electro-Mech Enterprises | A provider of ERP SAP training service to colleges, university students and SAP licensing/consulting partner for various industries. |
| Inteliment Technologies | A provider of Bigdata Analytics service in addition to Hadoop, HANA, Cloud, Mobility, Business Intelligence & Data Warehousing, Outsourced Product Development Services |
| Iteanz Technologies India | A provider of SAP implementation, service that majorly constitutes of S/4 Hana, BI, BO, CRM, CRC, Process Integration and Strategic Enterprise Management |
| Itelligence India Software Solutions | A provider of SAP HANA implementation service, SAP Consulting, SAP Application Management Service and SAP Hosting solutions. |
| Lithan Academy | A provider of academic education programs and certificates in Enterprise Resource Planning . |
| Mesprosoft | A provider of SAP related lifecycle services in business process management and customer relationship management |
| Nagarro software | A provider of SAP Application Development services that cover all current SAP products such as SAP ERP, SAP CRM, SAP BI and HANA, SAP NetWeaver and ​SAP Solution Manager. |
| Porus Software Consultants Pvt.Ltd | A provider of SAP services portfolio which includes implementation, rollouts, suppot, upgrade and migration, HANA implementation, SAP HCM implementation etc. |
| Seal Infotech | A provider of SAP Business Suite, which includes Business Intelligence, Supply Chain Management, Enterprise Portal, Supplier Relationship Management, Customer Relationship Management and... |
| Tata Technologies | A provider of customized SAP solutions for Customer Relationship Management, Supply Chain Management and Product Lifr- cycle Management. |
| Techfour Engineering Solutions | A provider SAP related services, which includes SAP Implementation, SAP Rollouts, SAP Upgrades and SAP Application Support and Maintenance |
| Vital Wires Consulting | A provider of SAP solutions to Agro and food processors, consumer packaged goods and components manufacturers |